Jennifer Aniston Settles on Lola V(ie) - Update {Fragrance News} {Celebrity Perfume}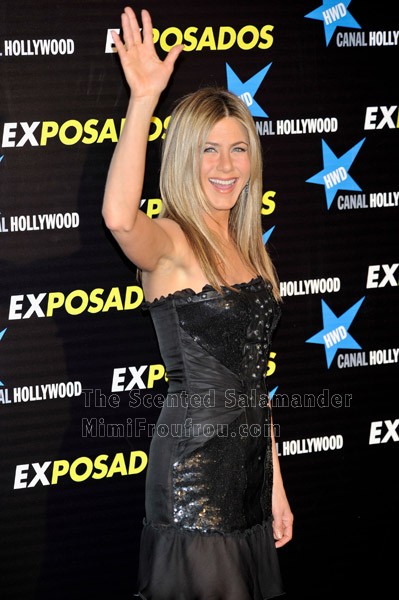 Jennifer Aniston on March 30, 2010 at the Bounty Hunter premiere in Madrid © Getty Images/Carlos Alvarez
Actress
Jennifer Aniston
has finally made up her mind as to what name to pick for her signature fragrance to launch this month in the UK. Her debut scent is called
Lola V
(see update at the end of the article)...
Prior to these news another name discussed had been
Aniston
although the executives at the Falic Fashion Group who are developing the fragrance were reported to be against it.
According to
Life & Style Mag
,
Lola V
is the chosen one. They don't explain where the name comes from and why it was elected. So while I get more information about it, I'll just tell you what it made me think of. It reads like a play on the words "Lol à la vie", something like "laughing at life." Or, "Yo, La vie!" I guess I can't get away from the tabloid reference when I think of Jennifer Aniston.
A quick search in the IMDB database brought up an obscure German movie from 1943 with a character named Lola v. Hübner.
Despite the resemblance with the name Lola by Marc Jacobs, curiously, I did not think of it at first because that "V" is intriguing. It's a good perfume name if it can make you think about itself more.
The actress said that it took her over a year to bring the perfume to full completion and that she thinks the creative team did not expect her to be so picky.
"I've worked on it for over a year," Jen recently told London's Capital Breakfast Show co-host Lisa Snowdon. "When they asked, I don't think they really expected me to be [so] picky. But you've got to have it smell right."

The fragrance is expected to debut later in the USA.
Update: the fragrance is actually called
Lola Vie
. It still means what I thought it might mean, "Laughing at Life." (Click on the link to read the update)