Avril Lavigne Forbidden Rose (2010) {New Perfume} {Celebrity Fragrance}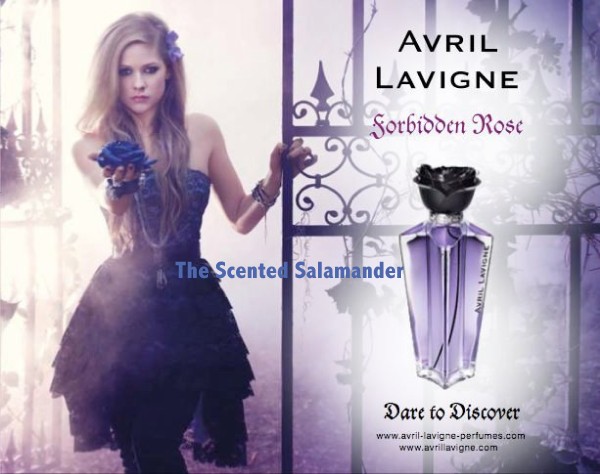 Avril Lavigne
will roll out a new fragrance called
Forbidden Rose
in July and at the beginning of August 2010 following her debut scent
Black Star
. The tag line is "
Dare to Discover
" which is said to be a message for encouraging girls to push boundaries even further than with the first scent. Despite the fact that celebrity fragrances are often thought to be light affairs, and tween perfumes even more so, the singer pointed out that the process was arduous and took two years to complete. Of course, this doesn't prevent the upcoming Forbidden Rose to feel déjà vu, because sometimes, it's the whole point....
Like a pop song that everyone enjoys and is turned into a successful, insisting earworm, the new scent is a medley of pop influences. It is reminiscent of the black rose ad for
Kate by Kate Moss
, borrowing on the same Gothic inspiration; the flacon makes you think of a sooty, mass-market avatar of
Lola by Marc Jacobs
; the gesture of presenting a rose to the public on the ad recalls
the iconic apple extended on the book cover of Twilight by Stephenie Meyer
, a visual link which is actually reinforced by the scent description which refers to the theme of the forbidden apple; the cemetery background is a riff on the vampire theme which
is currently so popular
; finally, as Lavigne recorded a song for
Alice in Wonderland
by Tim Burton, one can see the imagery here as being a prolongation of the mood of the film.
Forbidden Rose is a woody fruity-floral. Top notes are red apple, white peach, bourbon pepper; heart notes are lotus flower, apple blossom, heliotrope and pomegranate; base notes are vanilla, melting chocolate, sandalwood.
You can watch a Q & A on the perfume with Avril Lavigne below; there is a LOL moment (at least for me) when the guy interviewer tells Lavigne what the name "Forbidden Rose" evokes for him.


Avril Lavigne FORBIDDEN ROSE
Eau de Parfum 15 ml € 17.00 approx *
Eau de Parfum 30 ml € 25.00 approx *
* Eau de parfum, 50 ml of approximately 35.0 o €
Shower Gel, 200 ml approx € 12.50 *
Body Lotion, * 200 ml of approximately 13.5 o €
Deodorant Spray, 150 ml of approximately € 12.50 *

Via Cosmoty.de, Facebook