Nina Ricci Nina L'Elixir (2010) {Fragrance Review}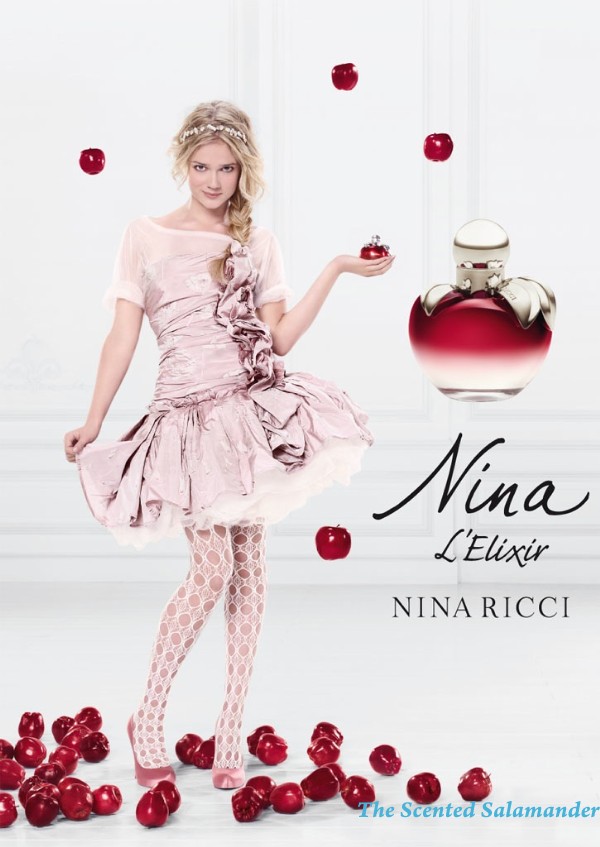 Nina L'Elixir
is the latest addition to the Nina portfolio which was inaugurated in 2006 to popular commercial acclaim with
Nina Eau de Toilette
. Perfumer
Olivier Cresp
working in tandem with
Jacques Cavallier
then, continued doing with it in a way what had been his signature, lucky pairing of sensual oriental notes with gourmand ones in Angel by Thierry Mugler, but also to a lesser degree in Light Blue by Dolce & Gabbanna with its crisp Granny Smith apple note, both major commercial successes. Other Nina flankers have been added yearly both sustained by and encouraging of the success of Nina which has reportedly sold more than 11 millions bottles worldwide.
Nina L'Elixir is not just another slavish flanker but a real revisit of the composition by Olivier Cresp signing solo this time. One should not stop at the notes description nor official age-targeting for thinking about experiencing the perfume. The fragrance weaves complex aromatic codes which makes it a veritable mirror of the olfactory sensibilities of today.
But most of all it is also a very good composition with a distinct, recognizable and easy-to-remember signature, a rare and coveted quality which can be said to be a holy grail of perfumery achievement...
The clever balance of fresh and deep notes ensures that a large age-spectrum of women will be able to wear it if they are able to go past the princess-theme advertising.
Young British pop singer Florrie is the poster girl for the fragrance. Nina Ricci have come up with a deal apparently to foster her nascent career while Florrie brings her rocker persona and very pretty face to help young women identify better with Nina L'Elixir. Nose Olivier Cresp said that he was inspired in part "
by the sensual, vanillic aroma of some sweets his daughter brought home to eat
." The central idea behind the jus was to concoct a love potion in keeping with the theme of Adam's and Eve's apple, but also closer to home as a throwback to the Nina Ricci fragrance bottle designed by Lalique and Robert Ricci,
Fille d'Eve
(1952).
Notes: apple, jasmine, red berries, Calabrian lemon, Caipirinha green lime, cedar wood, cotton musk, warm amber.
Upon smelling it at first, the eau de parfum can be perceived to recreate the gourmand accord of the original Nina from 2006 but freshens it up, before deepening it in fact, as it introduces more transparent berry fruits. The Caipirinha green lemon is also well apparent in its fizziness coming across also as a bit metallic and edgy. The brand mentions "a touch of orignality" and I would agree with this characterization. Nina L'Elixir is not without those more abrupt notes that make a perfume feel objectively more difficult to smell than a basket of fresh strawberries. Some facets are here to grate you a bit and the coloring of the fragrance is not wholly pink and red but a bit urban gray as well.
The perfume could have been wholly pink and red but there are some gray notes which feel like they were stolen from the boys. After watching the commercial featuring young singer Florrie singing a catchy remix of
Sunday Girl
by Blondie directed by Nez, I saw that the palette of colors they use correspond to the olfactory impressions I received from the perfume, blind: pink-red, gray; they prefer to say "silvery." Gray is of course a characteristic color of Paris, both due to the zinc roofs but also the typical rainy weather. Pearly gray is also very much a luxury color, one often seen associated with couture houses.
Lately, one can notice that fragrances aiming to touch young women have introduced a slightly macho note of something smelling like graphite (cf.
Miss Pucci
;
Acqua di Gioia
;
take 2 here
) as if to help them express their harder sides. There is also a collective enterprise for glorifying the images of young women as rock 'n roll chicks. Florrie is a drummer with a pretty feminine voice; the mix in her of emancipated and romantic traits is obviously seen as an asset and emblematic of her times.
While the opening is a bit brash, the fragrance soon mellows down thanks to an oily note of seemingly sesame oil found sometimes associated with the floral osmanthus note (see Serge Lutens
Nuit de Cellophane
where I smelled it first before spotting it in
Chanel Cristalle Eau Verte
.) Nina L'Elixir owes it its thicker body justifying the term "Elixir" at first.
At this point, the blend becomes quite voluptuous, but still fresh and a bit tart. It evokes a sense of young femininity with a palate for dessert and as if talking in acidulic voices.
Next comes a very interesting and complex fruity accord, which feels creamy and cheesy in texture. There are desirable suggestions of overipeness and deliquescence.This is the point where one feels that the jus merits its "Elixir" moniker most. The scent becomes exotic, unplaceable, mysterious like an elixir ought to be. It is in fact in part due to the scent interpretation of a Caipirinha cocktail made of green lime, sugar and Cachaça or alcohol made of fermented sugarcane juice. The floral note becomes a bit leathery.There is an intriguing anisic/green fennel note which adds character to the fragrance. If it is inspired by the anisic/licorice note in Lolita Lempicka, it had the inspiration at least of translating it into a green note instead of replicating a dark, black tonality.
One finds here a sort of olfactory bridge between the caramel note of the original Nina and the tropical creaminess of
Ricci, Ricci
which rests on a rich and narcotic floral Belle-de-Nuit accord.
A salty note of woody ambergris points its nose confirming that Nina L'Elixir has graduated from the candied amber of the original.
In the longer drydown, it feels suddenly like a discrete drop of dark oud was added to help in the interpretation of the concept of an elixir. Oud has been very trendy lately. It also has a raspberry facet and a fruity oud was precisely used in a young women's scent by Nina Ricci in the past,
Deci-Delà
(1994), or at least this is how I remember it.
Even more surprising, the next day I catch a familiar whiff but as if very, very discreetly ensconced within the perfume composition:
Love By Kilian
. I almost did not "see" it, but there it is contributing to Nina L'Elixir rapturous new vibes in a secret manner.
The fragrance launches today in France.
Additional sources:
The Moodie Report
; Cosmetics International