Gardenia Perfumes Notebook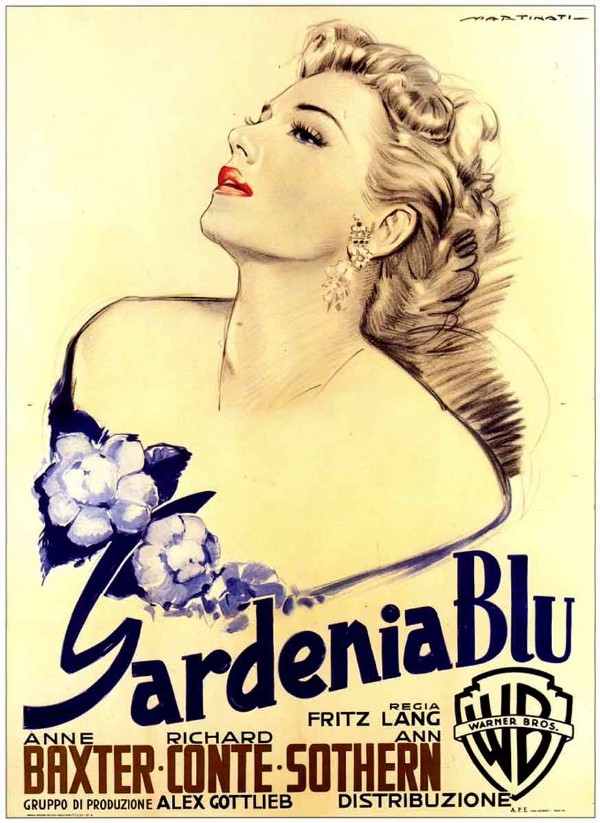 The Blue Gardenia by Fritz Lang (listal.com)
We're adding a new floral notebook to the blog on the scent, culture, and symbolism of Gardenia. To start with, we're organizing pre-existing blog reviews of gardenia perfumes in one place. You can search for more recent gardenia news annoucements on the blog - for your testing and shopping suggestions - by using the search box at the top of the site.
As I am writing down this list, I can just smell the scent of gardenia wafting up -- can't you?
Perfume Reviews
American Beauty Beloved Red Roses (Red Rose + Gardenia)
Annick Goutal Un Matin d'Orage: Elemental Gardenia
Bond No.9 Saks Fifth Avenue for Her "the return of the classic gardenia eau de parfum"
Carolina Herrera 212 Sexy (Gardenia + Geranium)...
Editions de Parfums Frédéric Malle Carnal Flower
Estée Lauder Private Collection Tuberose Gardenia
Kai Fragrance Oil & Eau de Parfum
Kate Spade Eau de Parfum: In Memory of Zelda
Lulu Beauty Starlet: For Gardenia Girls
Mariah Carey Forever: The Lady is a Gardenia
Mary Greenwell Plum (Plum + Gardenia)
Pacifica French Lilac & Tahitian Gardenia Body Butters
Parfumerie Générale Gardenia Grand Soir
Penhaligon's Anthology Gardenia
Penhaligon's Ellenisia: a gardenia note in a lush English garden under the Tropics
Serge Lutens Une Voix Noire: An homage to Billie Holiday's gardenia fascinator
Tom Ford Black Orchid: A faux black orchid - a real dose of blue cheese gardenia
What are some of your favorite gardenia perfumes? How would your dream gardenia perfume smell like? Which gardenia perfumes you would most love to see reviewed?