Serge Lutens Bas de Soie (2010): Deceptively Simple yet Regal {Perfume Review & Musings}
The latest perfume by
Serge Lutens
,
Bas de Soie
(Silk Stockings) offers two obvious lines of continuity with the Palais Royal collection. First, it now composes a quatuor with the previous more or less loosely fashion-themed fragrances
Serge Noire
(Black Serge),
Fourreau Noir
(Black Sheath) and
Fille en Aiguilles
(Girl in Stiletto Heels is one of the possible meanings of the name.) Serge Noire which debuted this more or less metaphorical sartorial series was said to be in part the result of an autobiographical reference to Lutens's past when he was working at the couture house of Christian Dior.
It is also the second iris composition signed SL offering this time less of a soliflore interpretation, as for Iris Silver Mist, and more of a two-note pairing with hyacinth. Although you will find a few detours in the review of the fragrance, ultimately Bas de Soie could be said to be simply an iris and hyacinth perfume with two of the usual trademarks of the brand: subtlety and deceptively-simple.
It is often hard to pinpoint a starting point in the creative process and decide which one of many references took precedence over another one over time. Serge Lutens is - at least we can be confident in that - the man with the initial ideas, which then trigger a more complex and ambiguous process in the interaction which exists between his vision and critical appraisal and perfumer Christopher Sheldrake's fine-tuning of the perfume and creative input too.
Bas de Soie at first for me was an iris shock, so much so that I had to ask what quality of iris had been used.
Serge Lutens answered and gave more than a factual piece of information.
He does not just specify what iris is used.
He explains in his answer that it was the contemplation of the color of the hyacinth flower itself that gave its slant to Bas de Soie and in particular and interestingly offered a visual means of evaluating for him the right balance between hyacinth and iris in the composition....
Hyacinth and Iris Pallida by Redouté, 1840

Some perfumers are more visually-oriented, others are more musically-oriented. The visually-oriented ones confess being easily inspired by colors. For Serge Lutens who debuted as a visual artist, that is as a makeup artist and photographer, it would therefore be a wired, deep approach to finding the compass of a composition. But it sounds also like it could be just the result of a moment of serendipitous inspiration, not a method.
In his work, colors compose a subtle palette perceptible to the naked eye inside the bottles of tinted perfumes - the (now) green of Douce Amère, the dark violet of
Sarrasins
- and sometimes more plainly expressed in the names of his fragrances:
Chypre Rouge
,
Fourreau Noir
, Iris Silver Mist, or less obviously so in the invisible accords of his perfumes as in the shiny black of
Five O'Clock au Gingembre
or the sky-blue hue of Un Lys. Purple is one of his fetish colors and contributes to
the tone of the atmosphere at Palais Royal
. Serge Lutens said about Bas de Soie in answer to our question,
"It is Iris Pallida, but it is in equilibrium. This breaking point is critical in the fragrance, associated with hyacinth.

It is here the color of hyacinth which has more than anything else guided me towards the beam of the scales, than the perfume of the flower itself in a direct manner. However, once smelled, this association made total sense to the fifth sense!"

The first time one smells the opening of the fragrance one is caught off guard and...it is to die for. It is a calm and luxurious apotheosis of iris (
luxe, calme et volupté
wrote Baudelaire perceiving the sacrosanct trinity of privilege) in all its rooty-aqueous splendor. It is a complex impression of both sueded iris and green hyacinth worked into a very fine texture.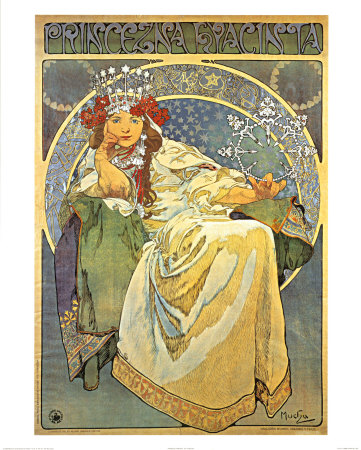 The iris seems dominant or I am paying more attention to it. It creates for me the imaginary sensation of a scintillating, shimmering gray diamond tucked away in a submarine grotto whose walls give off strange sparks from intermittently lighting electric animals. The marine-depth cue might be coming from the encounter of the metallic facet of iris, which is incidentally much more pronounced in Iris Silver Mist than in Bas de Soie, and amber which results in a sensation of ambergris fresh out of the ocean. There is as well an ash-y gray nuance.
As far as secondary nuances go, which make up the character of the fragrance but are not dominant or even perceptible upon a first-time inhale, there is a faint trace of eugenol/carnation/clove which spices up the iris accord and adds its own metallic nuance to the silvery flashes of iris.
The iris in Bas de Soie is doughy and dewy, a bit soy-bean-milk like, with this desirable subtle bland quality hovering somewhere in-between the scent of rice flour on a marble pastry board, light cocoa powder, and cosmetics face powder.
The inherent quietness of iris has been enlivened by some discreet and disguised nail-polish-like indoles, attenuated forms of the in-the-raw siren calls of natural hyacinths, which are some of the most diffusive and brutally scented flowers, evoking hard-core leather, skai, burnt rubber, cigarette, tobacco, all covered by the more mellifluous accents of the pretty starry flowers.
I often find a marked dual aspect to Serge Lutens perfumes but while there seems to be sometimes a tension and a dramatic clash as in Sarrasins or Serge Noire, here it is really about the seamless interweaving of two different species. I think nevertheless that this metaphor is only partially true as it is to my nose the rarer iris which takes precedence. Although as soon as I say this, I am struck by the veracity of the smell of hyacinth. The latter seems to slowly take over infusing the scent with its green spring-like quality. In the end, it is not really about a new synthesis but the just pairing of these two floral scents. Bas de Soie does not smell of anything new, alien or abstract but rather of a tight weaving of two floral scents.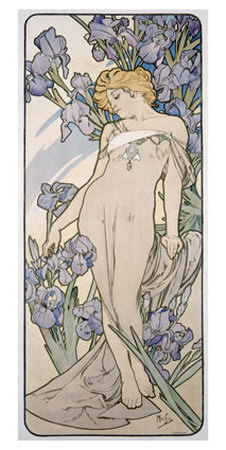 Although I feel less the necessity to do so on ulterior readings, initially I could not help but draw a comparison with
Iris Gris by Jacques Fath
. Bas de Soie after a while becomes rosier and peachier to my nose as well as more resinous with powdery undertones. Fresh green floral accents peak through evoking a springtime flower meadow.
The peachy aspect made me wonder whether Serge Lutens wanted to offer an interpretation of Iris Gris by Fath, but after re-smelling the orginal Iris Gris, it seems highly unlikely as the latter is an entirely different beast altogether with much more focus retrospectively on an exotic-treatment-in-time of the peach note, which is both compelling and flawed to my nose (I happen to both admire the perfume and be critical of some of its aspects.) If Iris Gris's use of aldehyde C14 is closer at times to the poor man's peach appearing in Mitsouko by Guerlain post-reformulation as a seeming recall of the hardships and bitterness of World War II from which it had barely emerged, Bas de Soie is more post-Trésor with a certain cosmetic, powdery quality to it. Much further down the road, I am reminded in a very distant way of Chanel No.19 in the way iris is paired with a green note.
If there is any Iris Gris reference, it is of the order of an oniric take on it without real need for a literal reference. In a more general sense, Bas de Soie could be seen to be another dream yet on the superlative qualities of orris. The opening, as I said, is iris Nirvana, a long modulation on the elegant nuances of a royal dose of orris, Iris Pallida being the highest grade of iris. What is striking too in this perfume is the verticality of the enduring iris accord which stays on even in the longer drydown.
I had to go back and smell Chanel 28, La Pausa, but also Bois d'Iris by Van Cleef and Arpels and more recently Donna Karan Iris to see where Bas de Soie stood exactly in terms of illusion and material presence. Compared to these and to Iris Gris even, it feels more overdosed in iris, than any of them. If it is not entirely due to Iris Pallida - a carrot note is often used to enrich an iris accord for example - it preserves the illusion very well.
The subtlety of the hyacinth note was also more apparent to me when I compared it to the one in the recent La Tulipe by Byredo which feels much more detergent-like.
Those who look for complexity in Serge Lutens fragrances will find it, but in this most difficult form: the deceptively-simple form, as in this most acute expression of it, L'Eau Serge Lutens, a beautifully subtle magnolia composition. Bas de Soie is not a showy composition. It is not one of the theatrical or baroque Lutenses, but it remains - as is his trademark - difficult. Here the complexity appears more under the pattern of a binary complementarity which was meticulously and minutely constructed and which may seem obvious, but only after the fact. Incidentally, the image of the silk stocking is used by Lutens to connote a quasi scientific precision in this beautifying gesture which enhances the leg. Using in-house references, you could see the new scent as drawing on the sensibilities expressed in both Un Lys and Iris Silver Mist but finding a new way to express themselves and offer a sense of progress.
The "Lys" or lily which is in fact thought to be a yellow iris according to the legend, is the royal emblem of the kings of France and it seems to have, at least metaphorically, pushed this iris fragrance in a more regal direction.
Added:
Bas de Soie is now available online from the Salons Shiseido and a courtesy engraving is offered on any spray fragrance bottle
.