Dior La Collection Couturier Parfumeur (2010): A Floral Homage to the New Look in 10 Perfumes {New Fragrances}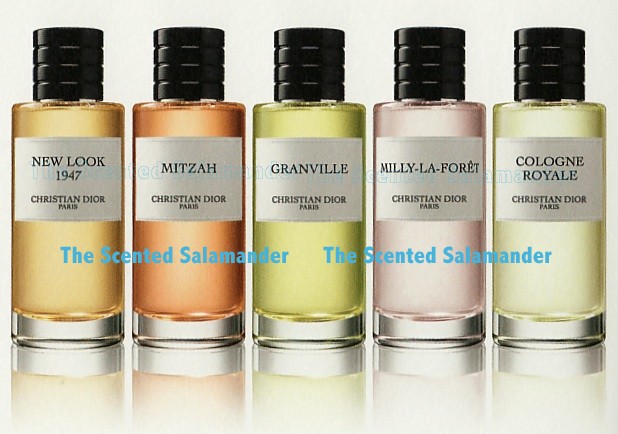 The new exclusive library of scents of 10 perfumes by
Dior
this fall is entitled
La Collection Couturier Parfumeur
(The Fashion Designer-Perfumer Collection) (see
previous announcement
.) It pays homage to the New Look but also rests on biographical references to its creator.
In an epigraph to the collection, which attempts to coherently capture the universe of the French couturier like never before as if it were an olfactory biographical mirror, we find this quote by
Christian Dior
about his own experience of the relationship existing between Haute Couture and perfumery,
"You can't imagine how much know-how and precision it takes to create a fragrance. The creative process is so consuming, so demanding, that I feel as much a Perfumer as a Couturier,"...

La Collection Couturier Parfumeur is signed by self-titled "Perfumer-Creator"
François Demachy
, the head of olfaction at Dior.
Of the 10 perfumes which compose this surprise collection - the release had been kept hush-hush very well we have to note in passing - three are already known as they are part of Les Colognes collection:
Ambre Nuit, Eau Noire
, and
Bois d'Argent
. The seven remaining ones are new additions.* They are named
New Look 1947, Mitzah, Granville, Milly-la-Forêt, Cologne Royale, Vétiver
and
Leather Oud
.
Like for its cousin collection
Les Exclusifs by Chanel
(
Demachy
happens to be a former long-time perfumer at Chanel where he worked side by side with in-house nose Jacques Polge), the perfumes were visibly inspired by affective locales, exclusive materials and archetypal perfume genres. What is distinct from the Chanel boutique collection on the conceptual plane however is the reference to the role of a muse in the collection, Mitzah Bricard, with the scent called Mitzah.
This preoccupation with muses may be seen in a way as a Dior-Parfums trademark. The exclusive
Passage collection
was already conceived based on this idea of paying homage to 6 muses. It is very much part of the couturier's symbolism at the Dior house. Christian Dior himself was very much reliant on his feminine muses who also included Marguerite Carré and Raymonde Zehnacker. Dior artistic director John Galliano is also well-known for his own publicizing of his muses, both for Dior as in the Passage collection and for his own brand of parfums as he repeatedly reveals with
John Galliano edp
and
John Galliano Parlez-Moi d'Amour
, the latter fronted by Taylor Momsen.
La Collection Couturier Parfumeur is also said to be more generally a
floral homage to the fashion style of the New look
. "
Flowers are Dior and Dior is flowers
" underlines François Demachy. Further in the press release we find this explanation, "
A constant in the history of Dior Perfumery, the use of floral notes is also the underlying theme of this new collection
."
In summary -- we will have occasion to return to this rich collection with reviews and more details on each of the compositions as well as their stories - here is what each perfume is about.
New Look 194
7 is said to be a modernized tuberose;
Mitzah
is an oriental homage to Mme Mitzah Bricard with facets of amber, spices and incense;
Granville
is a fresh, aromatic and sharp homage to Christian Dior's childhood home in Normandy (Demachy imagined the air Dior would breathe when he opened his windows in the morning);
Cologne Royale
is inspired by the 18th century courtly tradition of eau de cologne;
Milly-la-Forêt
is a tender and soft musk composition;
Vétiver
is based on the pairing of a robust Haitian vetiver with a South American Robusta coffee material;
Leather Oud
is an intense leathery oud perfume mimicking the animalic scent exhaled by oud when it burns.
Note* We are trying to verify whether Cologne Royale is a new name for Cologne Blanche or a new composition.