I Love You - M - Je t'aime, M - 130 Street Photographies after the Paris Attacks {Paris Street Photo}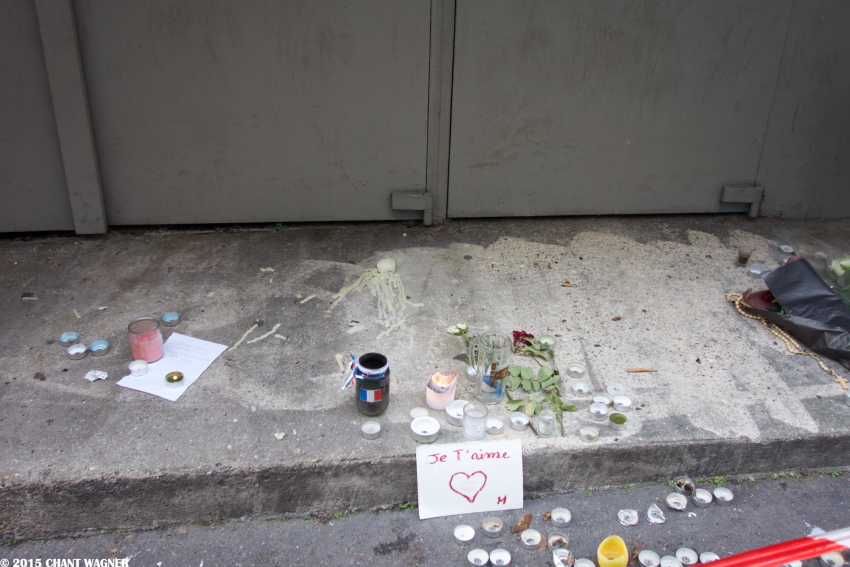 I Love You - M - Je t'aime, M 11/130 © 2015 CHANT WAGNER
130 Street Photographies after the Paris Attacks - 130 photographies de rue, après les attentats de Paris - In Memoriam
A month after the Paris Attacks, makeshift memorials on the sites of the carnages are evolving, dwindling, but also shifting and renewing themselves as if it would be too difficult still to cut off those last ties to loved ones...
From the City of Paris picking up fragile paper memorial art battered by the elements to entrust it to the Paris Archives for safekeeping, to visitors adapting to new spatial possibilities opened up by the police, new symbolic offerings on new discreet sites have appeared.
A card reads "Je t'aime, M" (I Love You - M). It was laid in front of the exit doors of the Bataclan theater.
Love has been the main force that Parisians have relied upon to cope with the tragedy. A still hospitalized, wounded man explained today on TV that he didn't feel any hate; he even actually tried to hate the terrorists, but didn't manage to.
In this photo, we can see a deep love expressed beyond death.
This photo is part of a series capturing the atmosphere of Paris after 11/13 in 130 pictures, one each day for each of the 130 Paris Attack victims.
Previously:
Game Over: Culture Shock - Fin de partie : le choc culturel - 10/130

The Blood of the Republic was Shed - Le sang de la République a été versé - 9/130
Under Shock - Sous Le Choc - 8/130
Bullet Holes at the Laundromat - Impacts de balles au Lavratonic - 7/130
A La Bonne Bière Reopens: Shades of Emotions - Une Palette d'Emotions - 6/130
Peaceful Day at République - Jour Paisible à République - 5/130
Eagles of Death Metal - Still up on the Marquee II - Les Eagles of Death Metal sont toujours là-haut sur la marquise II - 4/130
Eagles of Death Metal - Still up on the Marquee - Les Eagles of Death Metal sont toujours là-haut sur la marquise - 3/130
Woman with a Tricolor Turban - La femme au turban tricolore - 2/130