Halloween or Perfumes from the Crypt {Perfume List}
The Oriel Window, Lacock Abbey by William Henry Fox Talbot, 1835 or 1839
Halloween is upon us and with it the possible conundrum of what perfume to wear to partake of the festivities to honor the dead. Halloween is not really celebrated in France. There was an attempt in the 1990s to implant the tradition there but it eventually failed although by 2000 it seemed to have picked up again a bit. By 2006 however Le Monde and Le Parisien both declared Halloween to be dead.
I can still remember an encouraging picture in a daily showing a spectacular row of pumpkins at the esplanade du Trocadéro with the Eiffel Tower in the background. It seemed to be opening a Roman Appian way into French popular culture. Somehow, the symbolism of the pumpkin never took hold, nor the horror-movie cultural references, past a few fashionable force-fed years. You can see it as a fad like the Christmas trees garbed in artificial snow and dyed red or blue of a couple of years ago in Paris; it soon died as a "new tradition".
Perhaps what the French were lacking was a vibrant Irish community to keep the fire of Samain burning. Cultural resistance to a wholesale import of a cultural practice perceived as all-American is faulted too.
Halloween in the USA by contrast is a monster event for the majority of people. The olfactory images it conveys are rich, or at least potentially rich as the accent is more often put on taste than scent for the occasion.
Before we leave the shores of France, a country where a tradition of Halloween-themed perfumes could have developed, we can evoke an immediate All Saints' Day association with the scents of Chrysanthemum and Immortelle flowers that are laid out on tombs on the day of La Toussaint.
I know of one perfume that can suggest this tradition and it would work well in the US too with its dark maple syrupy tones, Sables by Annick Goutal...
Halloween party invitation on an old ice truck by Walker Evans, 1973-1974.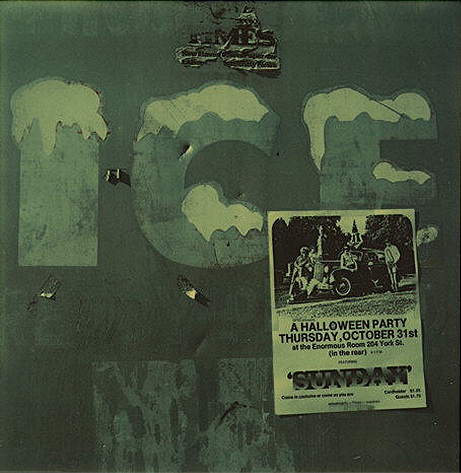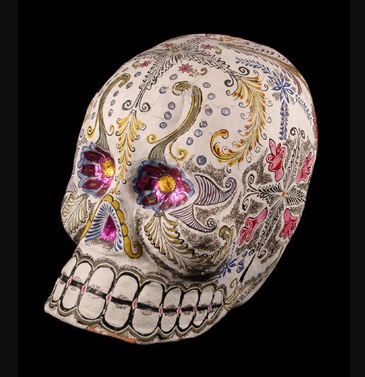 Mexican Day of the Dead skull, Musée du Quai Branly
The notes that come to mind when thinking of the institutionally and playfully creepy atmosphere of Halloween are: incense, Immortelle/Everlasting flower, licorice, orange, chocolate, toffee, apple, blood, chrysanthemum, dirt, and more.
I already reported on a collection of Halloween perfumes by BPAL which will be available until November 15 2007. What else could you conjure up?
• The first one that comes to mind and which seems to be the most quintessentially lugubrious and dark perfume I can think of - suggestive of the cold humid breath emanating from a dusty crypt - is Messe de Minuit by Etro. If you want to be reminded of your own mortality, then wear it as a memento mori.
• Juozas Statkevicius is a perfume of the shadows, smoke and the night. It smells black.
• Dirt by Demeter is the scent of freshly dug out earth. Interpret this aroma as you wish.
• Lux by Mona di Orio is like a golden ray of sunlight shining onto ancient manuscripts and violated sarcophagi in an Egyptian pyramid open to the winds and the sands of the desert. It offers a certain macabre charm that antiquating minds will appreciate.
• Less dark than the first one and perhaps even the second one in our list but equally mystical is Shiloh by Hors Là Monde another incense perfume seemingly containing a magical spell in it written in cuneiforms. It smells like kyphi.
• Leaving the register of the sepulchral but still wanting to retain an aura of mystery you turn to a perfume that is no longer dark, subterrranean, shadowy or crypt-like but darkly green and magic. Smelling Alpona by Caron is like finding yourself suddenly in the middle of the enchanted forest of Broceliand.
• Mandragore by Annick Goutal is elusive, mysterious, without being dark. It is more like a medieval castle arising from an early and thick morning mist.
• Lolita Lempicka adds a touch of black and licorice to your outfit and the bottle looks enchanted like a little purple pumpkin ready to be transformed into a fairy-tale carriage with shining golds.
• Caron Eau de Réglisse is a composition centering on the dark scent of licorice.
• Black Orchid by Tom Ford smells a little bit like a thick dark witch's brew that would have been cooked under the sun of the tropics, in a good way.
• Tom Ford again must like witches' brews because Gucci Eau de Parfum (2002) is another ambery concoction with leathery neroli and cumin in it that seems to have been prepared by entranced sorceresses.
• If you want to get into the character of a witch and revive the medieval perfumery tradition of incorporating women's menstrual blood into perfumes you can wear Eau de Protection by Etat Libre d'Orange. There is in it a secret ingredient, a ferrous blood accord with rose. The perfume is a little strange a priori but in fact smells delightful.
• Halloween is also a joyous food festival. The Body Shop has a new Pumpkin Nectarine home fragrance that you could always dab onto a cotton and insert somewhere in the folds of your clothing.
• Oui Marie! has a Pumkin Pie fragrance.
• Un Crime Exotique by Parfumerie Générale is the scent of molten candle wax and pumpkin spice floating during and after a copious Thanksgiving meal.
• You cannot resist the smell of a good bonfire? Then you could use the home fragrance John Galliano by Diptyque as a clothing or skin perfume. It smells exactly like a smoky wood fire in the autumn.
• Christopher Brosius Burning Leaves is another option in the range of smoky fall notes.
• The gourmand smell of Toffee Apple can be found in Nina by Nina Ricci (2006).
• Another even more decadent and pure caramel sensation is to be found in Caramel Sunset by Comptoir Sud Pacifique.
• Apple and milky caramel are also associated in Brandy Eau de Toilette.
• Miss Dior Chérie has a hint of caramelized popcorn (update: old formulation).
• Chocolate smells dusty, powdery and yummy in Amour de Cacao by Comptoir Sud Pacifique.
• Pink Sugar by Aquolina is all about sweet cookies, and more.
• Sugar Cookie by Demeter is also very evocative of sugar and in particular, could help conjure up Mexican sugar skulls.
• Rose by Scent Systems is like an archaic Elizabethan rose perfume made of slowly boiled sugar mixed with rose petals and essence.
(Image sources: Met; Musée du Quai Branly)