Gucci by Gucci Sport pour Homme (2010): Escapist Fig {Perfume Review} {Men's Cologne}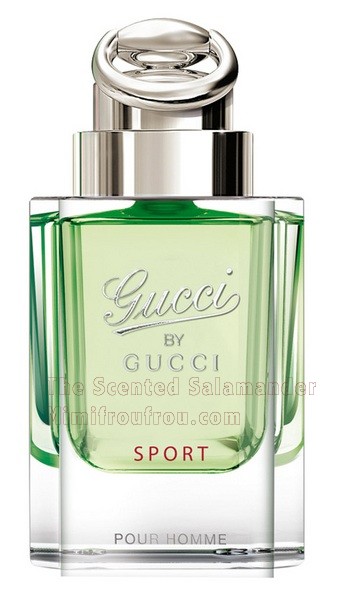 Gucci by Gucci Sport pour Homme
is a
follow-up
to
Gucci by Gucci pour Homme
(2008). I miss somewhat the retro glamor of the Tom Ford period and the less-than-tepid personality of his art-directed
Gucci pour Homme
(2003), but Gucci by Gucci, we are told, has been a resounding success. The Sport version was reportedly inspired by the power of the ocean without being literally a sports scent. What Gucci artistic director
Frida Giannini
wanted to evoke most of all was the feeling of getting away from it all
"I don't necessarily link it literally with sports,"... "It's more a sporty state of mind. Meaning, off-duty time and the attitude that comes from being relaxed and carefree."
She added that one of her goals was to dress down the original fragrance which is more formal and said "
I wanted to expand the story of the scent into a man's free time and the more casual moments in his life
."
The fragrance advertising, which was shot in Cannes by
Inez van Lamsweerde
and
Vinoodh Matadin
, continues to be fronted by actor
James Franco
who is seen emerging from what may be a pool by the ocean or the ocean itself wearing casual clothes clinging to his body. The word "sport" apparently is meant in a general sense to refer to the dynamism of the natural elements, of the muscular masculine body and to a sense of freedom...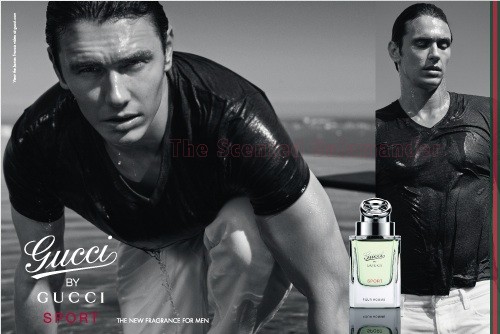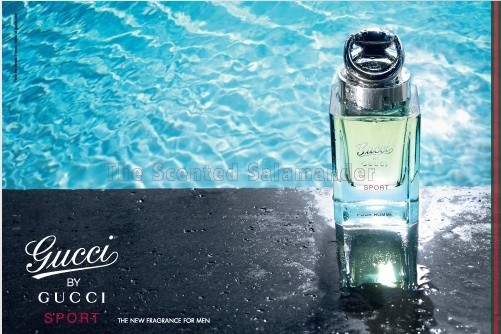 While Frida Giannini insisted on the long-lasting citruses developed for the new fragrance - a feat, originally, but which is common by now - one is more struck by the central fig accord as well as the green leafy-aromatic accents of the scent reflected in the color of the jus which is a bright neon apple green.
Notes: bitter grapefruit, madarin, cypress, aromatic cardamom, the fruity nectar of Corsican figs, juniper berries, vetiver, patchouli, ambrette seed.
Gucci Sport pour Homme
opens on a typical breezy and aqua masculine accord but very quickly exceeds average expectations by revealing a nuanced, multi-faceted leafy and herbaceous fig accord, as if fresh figs were displayed on sharply-scented sappy leaves. The fig note is also milky-aqueous, woody, and smells of wintergreen (the cypress note) while developing on a sweet amber-y, cognac-like background. A minty note further stresses the fresh aromatic facet of the cologne. Mint has become fashionable lately thanks to some recent mainstream masculine colognes such as
Guerlain Homme
(Mojito accord) and
Cartier Roadster (2008).
I am not sure whether
Frédéric Malle Géranium pour Monsieur
with its overdose of mint can be seen as a distant influence but the result in a mainstream cologne could only be an attenuated version of the bold and brash glacial mint accord.
The fragrance - or rather I should say the wintergreenish fig accord -smells very good in a moderately conservative way - yes, let's just imagine that a fragrance can be inspired by a political orientation. It evokes a minty version of a hand-held cognac glass drank in a plush hotel on the riviera by a pine forest. The complex green aromatic facets are invigorating. They are softened by the milky and green Corsican fig and a discreet nuance of comforting powdery coumarin and even heliotropin which smell like a cue to the days of babyhood.
The fig accord which develops vertically over time is complex offering a cameleon character passing from milky to woodsy to green to fruity to citrusy to resinous. As the scent evolves, the coconut note which makes up the fig seems to detach itself a bit from its initial assignment and it starts smelling a bit like coconut toddy as in
Creed Virgin Island Water
, but still more fig-like. The long drydown is that of a hushed down, warm oriental note with notes of dry cedar.
The blend is fresh, both soft and green with hints of sea spray, tanning oil, sand, pine forest, summer breeze, fresh figs and coconut toddy: it is a convincing rendition of a summer vacation, in a bottle, while not eschewing the charge that it tries to play it safe. The more creative accord is contained within a more conservative hull. No doubt it is the kind of camouflage which is needed to pass muster with office authorities.This duality is retrospectively perceptible in the strange ambiguity of the Gucci Sport ad (see below) itself which seems to be the very embodiment of this free-yet-safe fragrance personality: the ocean looks like a pool and the pool looks like an ocean, as in a dream. If you make this dream often, or some sort of variation of it, you will have to buy the fragrance. At least, Gucci by Gucci Sport is not just safe as in the case of
CK Free
. You're invited to choose the right dose of liberty for you.