Radiant & Pristine Floral Bouquets Renew Our Sensations, Expand Space in 2010-2011 {Scented Thoughts} {Trend Alert}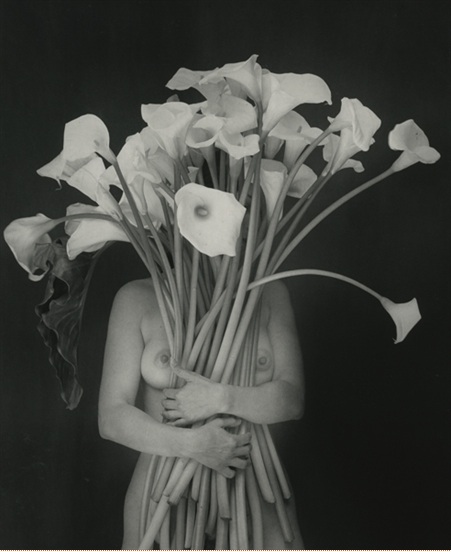 Flor Garduno, Embrace of Light, 2000
Before I proceed to review some of the recent, new and upcoming perfumes which reveal this characteristic interest in the radiant-bouquet motif, I thought I'd organize them in the Trend-Alert section. This current of sensitivity overlaps with the Pure White Olfactory Trend, but not always.
There have been a number of perfumes in the years past which have attempted to capture the crystalline texture of florals (Chanel Cristalle, Versace Bright Crystal, Omnia Crystalline...), but more recently it has struck me how a whole genre of floral bouquets is pushing the limits of expansion in space, purity, crystal clarity, and seem to be inspired by the glacial beauty of snow...
Taking a retrospective look at the recent past, I think that it all started to gel this year with Paris, Balenciaga signed by Olivier Polge, which made me think of a bouquet of white violets lit by the sky under the glass dome of the Grand Palais. But there was before and after, the continuation of Alberto Morillas' life-long work on white florals and white musk leading to more and more inspired white compositions.
Flor Garduno, Basket of Light, 1989.
Smelling the pure and expansive wafts of a holiday candle specially designed for Puig bearing the signature of the master and owner of Mizensir and inspired by Barcelona, this is when it really hit home. Morillas is consistently, perhaps even doggedly by now, pursuing a white, transparent and diffusive theme which appeared first as more classic white/yellow florals in Azzaro 9 (1984), Moschino (1987), continued with the seminal CK One (1994), Pleasures (1996) then the abstract rendering of an unscented flower, poppy, which smelled white in KenzoFlower (2000). The perfumer's pursuit was expressed in Armani Emporio White for Her (2001), Omnia Crystalline and L'Eau d'Issey flankers, the latest (in fact upcoming in 2011, upcoming review) which is L'Eau d'issey Florale. The perfumer continued also this apparently very mature trend with Essence by Narcisso Rodriguez, which was more of a dual white and black composition for me, like a contrast between Desdemona and Othello. Then, this fall, Bulgari Man became another canvas for the master to paint in white, pristine tonalities, if not downright virginal ones. How very surprising for a men's fragrance.
Serge Lutens and Christopher Sheldrake in their turn contributed to this current with Nuit de Cellophane and what I called then its featuring of a pellucid bouquet of osmanthus and white flowers. This was followed by Serge Lutens L'Eau which was an attempt to white out perfume yet managed to enchant in a more traditional fashion with the feeling of a delicate, transparent magnolia slowly emerging from apparent nothingness.
Jean-Claude Ellena has been also searching for light and water and air in his perfumes. This gave more recently Voyage d'Hermès, Eau Claire des Merveilles and Iris Ukiyoé (review upcoming.) His Vanille Galante, which I am reminded of, looking at the photographs of Flor Garduno featuring lilies, should be duly recognized as leading to this radiant trend.
His daughter Céline Ellena is concluding the year 2010, conceptually for me, almost like someone having the last word on the chapter, with a fragrance inspired by designer and family member Thierry de Baschmakoff, called more simply De Bachmakov (review upcoming) and which perhaps brings to a pinnacle all these tendencies. Inspired by Siberia, snow, vodka, the crystal of the perfume bottles designed by Thierry de Baschmakoff, everything transparent under the sky of Mother Russia, it is like the extreme consequence, the more literalist interpretation of the idea of a Boreal winter famously evoked by Ernest Beaux to explain part of Chanel No. 5's genesis.
I have not yet smelled the new Lorenzo Villoresi Iperborea, but it sounds like it belongs to this trend.
Byredo offered an aldehyde-laden Blanche fragrance, but also La Tulipe and M/Mink which all cultivate a sense of aesthetic purity.
One could not but absolutely and obligatorily mention Olivia Giacobetti who is also a lover of dewy, steamy, minimal effects something that can be traced in all her oeuvre but also more characteristically in her perfume house output, that of Iunx now located at Hôtel Costes in Paris.
Bertrand Duchaufour offered incredible chilliness and radiance with Orange Blossom by Penhaligon's and turned leather into a sheer, gauzy material thanks to hazy iris and vernal Turkish tulips in La Traversée du Bosphore.
Calice Becker is part of the roll-call for me with her underrated Beyond Paradise by Estée Lauder but also the impactful J'Adore (eau de toilette.)
Estée Lauder just released Wild Elixir signed by Harry Fremont, which is all about radiance judging from a first sniff, but also colors (upcoming review.)
Then I am reminded of Idylle by Guerlain, its tentative lightening of the house's secular signature. The new Eau de Toilette version this year pushes this airy, dewy orientation further. Thierry Wasser greatly admires L'Eau d'Issey by Jacques Cavallier, which he wished he had composed. He has also created a more traditionally transparent floral with Fresh Addict by Dior.
We find again at this juncture Olivier Polge (with Béatrice Piquet) whose work for Burberry Ice Sport for Women is about to be unveiled. We are told, it's an icy fruity-floral. Will it be more like a Thierry Mugler Innocent which used frosty notes, or something newer?
All these contributions cumulate to create a new school of radiant florals which is striking in that their diffusiveness and airiness have been maximally pushed. It has left all complexes about heavy, velvety textures behind as the signs of opulence and richness. We are entering a white, clear world and then even more recently with Estée Lauder Wild Elixir in particular, a clear, luminescent and colorful world, yet to be fully explored.
If this Radiant and Pristine Olfactory Trend gained significant momentum in 2010, it seems to correspond to such an inner need for renewal that we wager that it will go on in 2011 and perhaps even end up as a genre on its own.