Tuberose is Oh-So-Trendy this Spring/Summer 2010 {Trend Alert}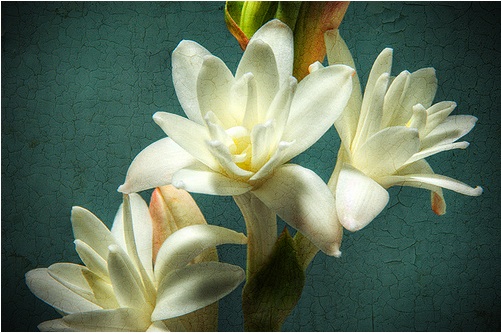 One of the advantages of wearing fragrance is that it is such a ductile medium for reflecting your moods. Do you want to feel transported to the 1940s? Get a Lenthéric, or more easily done, Miss Dior. Do you feel like you want to read into the crystal ball of the future? Try
Dans Tes Bras by Frédéric Malle
, a violet perfume with a Blade-Runner vibe to it. Do you just want desperately to smell like the moment? Are you yearning to capture the transiency and unique character of those few weeks that will never be around again?
One of your safest bets this spring and summer 2010 is to turn to a tuberose perfume if you love to ride a trend and feel fashionable...
Perfumers have given a new impetus to the floral note since the end of last year as if they were clamoring for more personality in women, franker sensuality, while encouraging men to tuberose up thanks to the sexually neutral image of niche brands.
Ladies, something in the Zeitgeist tells me it's time to show off your cleavage, ahem, personality and tuberose is your friend when it comes to making an unvarnished statement about who's who.
Gentlemen, tuberose has been known since the dawn of humanity to be a powerful, even disquieting aroma. Concentrate on the adjective "powerful" and imagine your tuberose is a Harley.
Zeitgeist-y Tuberoses to Seek out this Spring / Summer 2010
Histoires de Parfums
have released not one but three odes to the tuberose with
The Tuberose Trilogy
. In French, they are called The Whimsical One, The Virginal One and The Animal-Like One, in the feminine, but that might just apply to the tuberose. Men can choose what kind of tuberose lady they want to partner with.
L'Artisan Parfumeur
is also wooing ladies who prefer to live by night, deep-down, with their new
Nuit de Tubéreuse
.
Honoré des Prés
comes up with a NYC-inspired tuberose fragrance for urban farmers-cum-vampy dames who like to take care of their inner glow as well by shopping for organic foods and thriving on a raw diet, with
Vamp à NY
in the We Love New York collection.
Isabelle Desrroiné
proposes a 100% natural tuberose perfume as well with
Jardin de Bali
(unfortunately, it is only available in France.)
Fergie
wanted a tuberose-leather for her debut fragrance
Outspoken by Avon
. Tuberose as it turns out never fell out of fashion for Fergie since her high-school days in the 1980s so she doesn't really see the point of this post but she is glad she finally caught up with the Zeitgeist.
Prada Infusion de Tubéreuse
is a green tuberose trying to live out of the limelight where her effluvia traditionally push her to be.
Parfumerie Générale
Gardénia Grand Soir
hides a lovely tuberose in its midst, just behind that gardenia corsage.
Kim Kardashian EDP
recreates an old-school, old-Hollywood American tuberose glamazon seemingly to match the wave of pumped-up bosoms and lips. Somehow, it just did not make sense anymore to wear a thin fragrance when the obvious beauty dream is to be able to float safely back to the shore with the assets that mother nature and a good bank account gave you.
If we have let out any new tuberose scents for this spring /summer 2010, please pitch in.
Picture by
cbfarrell2003