Green Fragrances were Back in 2009 and will Stay in 2010 {Green Trend Alert}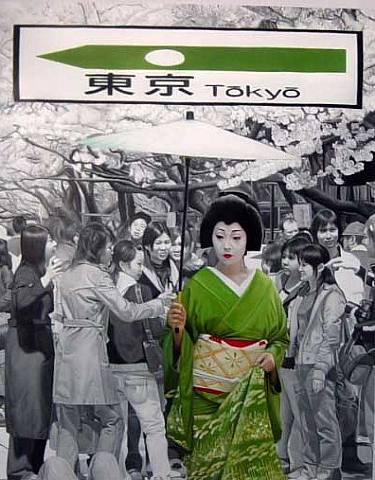 Green Tokyo by Ryoko Watanabe, 2009
I would like to take a look with you at the green-perfume trend which started last year, one less prominent than the oud one but which nevertheless colored the second half of 2009 and will continue to leave its signature on 2010 [if only because perfumes bought in the second half of last year will in all likelihood still be worn in 2010.]

Since I wrote the first paragraph above, more green-smelling compositions have been introduced and so the last comment ought to be replaced by "...because even more new green perfumes are now available."

I had said in April 2009 when reviewing the now discontinued Sous le Buis by Victoire Gobin-Daudé (Under the Boxwood) - the brand seems to be on a permanent hiatus - that committed green fragrances had become much rarer. I felt like there was somewhat of a void in this regard. By green scents I mean perfumes that have thought about the green theme in a focused and substantive enough manner to serve as future references...


Profile of Time by Salvador Dali

An indication that the green note is at the center of preoccupations is when the word "green" appears in the title of the scent, but not always (cf. Untitled by Margiela) or when the jus is colored green, but there are exceptions (cf. Chanel Cristalle Eau Verte, which is only partially green) or when the bottle is green (yes in the case of Ninfeo Mio, but no in the case of Amouage Epic).

Green can be soft like angelica or can be as cutting as a blade of grass as with galbanum; it can be slightly strange, resinous and leek-y like lentisc/mastic; it can be fruity like honeydew melon or fresh like cucumber, or both, like banana leaves; it can be thirst-quenching and refined like green tea or yerba maté; dark and moody like absinthe; it can be floral like rose, jasmine, or gardenia. Vetiver, mimosa can present marked green accents. This list of course is not exhaustive.

But what I have in mind really is the abruptness, a certain primeval quality of green - the leafy, grassy note is probably there; a green crispness and bite is perceptible not just in the top notes - and those perfumes that try to incorporate this green atmosphere modulate around it, I will call "full-blown greens."

I have not noticed any innovative green notes, as in say, extracted from the Amazonian forest, but rather some work attempting to renew sensations of green (green musk, dark-blackened greens, wan green) or simply interested in it because of its freshness and message of natural hope it carries for a more balanced world on the ecological and humane plane.

Before this trend formed last year as a trend, there have been very mainstream green compositions that ought to be pinpointed: Be Delicious by Donna Karan; Daisy by Marc Jacobs. I'm not sure that Estée Lauder Beyond Paradise is as much of a mainstream hit but it is certainly widely distributed and very, very green and interesting.


Full-Blown Greens in 2009-2010

Green Summer by Yves Rocher (2009)

Love by Nina by Nina Ricci (2009)

Piguet Futur (1967/2009)

Jasmine and White Moss by Estée Lauder (2009)

A Scent by Issey Miyake (2009)

Aftelier Trevert (2009)
Jo Malone Vanille & Anise (2009)

Ninfeo Mio by Annick Goutal (2010)

Untitled by Maison Martin Margiela (2010)

Chloe Eau de Fleurs Capucine (2010)

Charriol Tourmaline (2010)

Marc Jacobs Apple (2010) (it could be a partial green, to be verified)


Partial Greens in 2009-2010

Avon Absynthe (2009)

Chanel Cristalle Eau Verte (2009)

Parfums DelRae Emotionnelle (2009)

Géranium pour Monsieur (2009)

Viktor & Rolf Eau Mega (2009)


Please do not hesitate let me know if you see other on-trend green compositions that ought to be added to this list. Thanks!