Your Guide to the New Soliflores of Spring 2011 - & What Their Comeback Might Mean {Scented Thoughts} {Perfume List}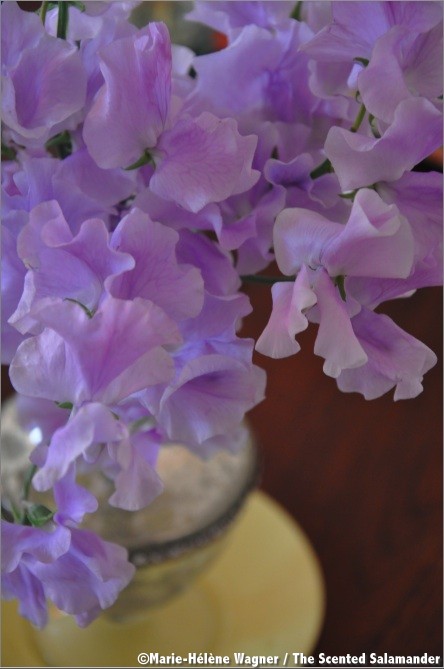 The Fashion for Soliflores Then & Now
The fashion for soliflores is seeing a reawakening in the spring of 2011. Soliflores or single-note floral fragrances were famously all the rage during the 19th century. It was so much so the default genre for floral fragrances for the longest time that in fact the term is not even used as a perfumery term until a much more recent date.
A "soliflore" is originally a bud vase destined to contain a single flower. Both the historical and contemporary language dictionaries I consulted ignore its meaning as a perfumery genre. Today, soliflores continue to have a certain traction especially in British perfume culture where the Penhaligon'ses, Florises and even Marks & Spencers make sure that your vanity is plied with seemingly unassuming recreations of the scents of garden flowers; it must have something to do with the gardening passion found in the Isles.
An American brand like Demeter Fragrance Library specializes in part in capturing the scent of single flowers, but they do not represent the mainstream of American culture as much....
Artisanal perfumery creators in the United States (see our Series on North-American Originals) may offer soliflores, but usually they strive to go beyond the felt naturalistic inclinations of this type of perfumery.
With the historical advent of complex compositions such as Houbigant Quelques Fleurs (1912) and most famously, the dowager of complex scents Jicky by Guerlain (1889) - but also the popularity of abstract floral perfumes such as Chanel No.5 (1921), or later Cristalle by the same house - smelling of nothing in particular but of vague, hard-to-pinpoint ideas and feelings, soliflores were pushed to the sideways of modern perfumery to make them look like retro naïve vignettes of the past, and stand as the wallpaper flowers of the creative fragrance scene. But there were and are exceptions. The original Chloé was a tuberose soliflore with a very big personality; Paris by Yves Saint Laurent made rose perfumes feel fashionable again; Frédéric Malle En Passant is a white-lilac soliflore bearing the mark of an art-house.
One could have noted however that despite the feeling that the structure of the soliflore had come to feel like a vestigial form to be revisited at times by many, including me, the names of fragrances that one could describe as "faux soliflores" kept the representation of the genre alive and apparently held onto the ideal as well. Perhaps no approach is more representative of this semiotic detour than Serge Lutens' who christens his fragrances Fleurs d'Oranger, Fleurs de Citronnier, Rose de Nuit, Tubéreuse Criminelle - and then complicates matters, sometimes considerably.
The psychological millefeuilles of his creations, I have blogged about more than once (see Index of Perfume Reviews under Serge Lutens.) On the other hand, the master has produced some more straightforward soliflore concoctions such as Un Lys; but he has also taken complete liberty with the genre and our expectations, with a fragrance such as Cèdre, which is in essence a very original tuberose composition, less well known than Tubéreuse Criminelle, hiding behind the name of his fetish wood material, cedar.
Not all soliflores are created equal. To me it is essentially a matter of balance - if we move past the primitivity of the unaldurated essential oil, which at any rate contains many facets. A soliflore can sometimes be seen to emerge from a complex environment, as for instance Chloé by Chloé, a structure I dubbed the "Closeted Soliflore." It is a sort of multi-layered composition used to enshrine the scent of a flower like a jewelry box opening to reveal a gem.
Sometimes a soliflore can be the core inspiration and lurking shadow of a more complex bouquet, as in the seminal case of Quelques Fleurs by Houbigant, which is reported as having evolved from the proto form of a lilac soliflore.
At other times, we enter the moody realm of "Atmospheric Soliflores" like Paris by Yves Saint Laurent, which despite its reliance on the rose-violet binome and other enshrining materials, does just that and is remembered for its rose note, which becomes the symbol of a lush and feminine city, Paris.
If we stop to pause and reflect on the vitality of soliflores nowadays before declaring them dead and passé we can see that they never really left the scene albeit they had undoubtedly lost their place of preeminence as the bon-ton perfumes worn by ladies and gentlemen - provided they were light enough.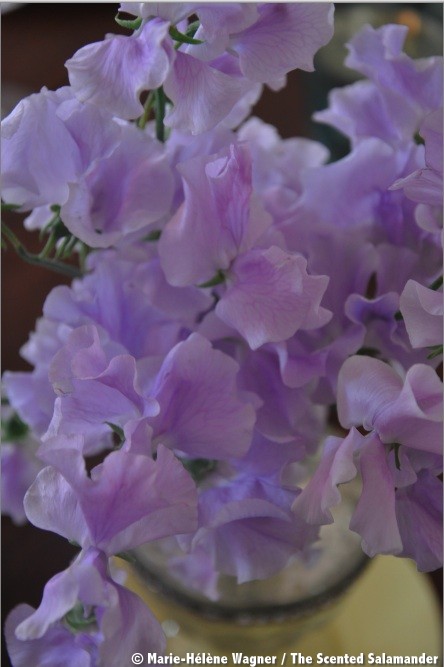 But if anything, showing off your status today - what French sociologist Pierre Bourdieu has theorized under the phrase "la distinction sociale" (social distinction) is better conveyed by wearing hard-to-identify evolutive perfumes with a story of which you will catch only a chapter as you pass someone by on the street, although the fact that so-called niche perfumes have become the new bon-ton, makes them in danger of feeling too predictable and appearing as trying too hard to impress - especially with the advent of internet perfume conversation and literature.
The internet indeed contributes to the blooming but also the codified aspect of niche perfumery by accompanying their descriptions with hierarchical statements about taste, edginess, in-and-out-group remarks. Soon, you do not want to be caught dead wearing the wrong niche perfume, the one which means for instance that you are more on the side of tasteful, moneyed taste, or the one which is on the side of obscurity and underground: the future masterpiece of next year, which will be shot down soon as uninventive per the rapid review cycle, while the same persons lament the disappearance of timeless classics which could have lasted at least 500 years with prudent curating.
The worst case scenario might probably be the one in which you are unaware and made suddenly aware that your niche perfume is a concoction bearing all the traits of the stereotypical "challenging" fragrance: it is shocking, it is minimalist, it is a non-perfume; it is expensive too. Copies are numbered and hard-to-access.
This is the reason perhaps why perfumes recently made for the Ritz Hotel in Paris were made to smell more discreet than expected because it is best - in an effect of reverse snobism - to not appear to try too hard to impress and wear your perfume-taste like a flag; it would be sniffed right away as a giveaway of your social pretentions.
Pushing this idea further, one could put forth the idea that if you do appreciate the art of perfumery for itself yet want to advertize your taste in the Art of the 5th Sense, then it might feel a bit like you are wanting to wear a tee-shirt with a reproduction of the painting of a well-known artist, whose original you are keeping at home. By this I mean that as a token of your art-for-art stance, nothing prevents you from just smelling perfume on silk scarves and feather fans agitated at home instead of wearing it and worrying whether it is "you" or not "you" and the impression you are going to make on noses other than yours.
Soliflores in this new, more tortuous and self-conscious environment where artistic and connoisseur anxieties have heightened can first be discarded as guilty pleasures requiring no effort of the psyche, or second, be seen to offer a refreshing break from the madding crowd. They offer the option of a return to nature, a societal current which is very important nowadays with the development of the organic and natural products branch of industry. But also as fragrance expert Michael Edwards pointed out in his latest edition of his annual perfume repertory, soliflores are coming back encouraged by on-site capture technologies, which push perfumers to rediscover the scents of live flowers. The Scent Trek program at Givaudan is a farm for future naturalistic perfumes, including solifores, whose simpler forms though might be more closely tied in with the eco-conscious movement and the return to nature and countryside movements.
The challenge which remains for the genre of soliflores remains to be clearly-defined but stop short of feeling devoid of ideas and sensitivity, too monochord, as the problem with a soliflore is that it can become relentless. When its simplicity turns into the sensation of wearing a heavy brick on your arm, you lose the light, transcendental body of the perfume, its perfume-nature, in the process. It becomes like a ditty heard insistingly on a loop.
Walking by a window display of the Hermès boutique near the Hotel Lutetia the other day, which was filled with so many flowers it looked like a florist shop, then reading on a window nearby a quote by painter Marc Chagall saying "Great art picks up where nature ends" seemed to signal that fragrances based on the replication of the scent of a single flower could only pretend to the status of a florist's fragrance.
Yet, the surprising thing this spring 2011 is the number of soliflore releases that have cropped up. Is it a distanciation from the idea of perfumery as art? Or more positively, a rediscovery of nature? Single-note florals are definitely losing their Victoriana touch to become once more embedded in the flux of our societal desires to make us day-dream. The change is that we do not ascribe moral personalities to flowers anymore (just yet) and do not feel compelled to wear the scent of a flower as an identity marker just like courtly ladies in the Middle Ages used to wear their own colors and knights would joustle for them wearing these as tokens of love.
But stiil, the number of soliflores that is appearing signals to me a yearning for a return to the restful simplicity of single-note floral fragrances, an encouragement to shop for our favorite floral scent(s), in a sequential manner rather than as a multi-faceted bouquet. It probably is somewhat of a conservative and protective reflex. After hankering for purity and whiteness, it is perhaps not surprising to be witness to a return to the unadorned charm of straightforward florals.
Here is your guide to the perfumes with a single-note emphasis this spring of 2011.
New Soliflores in 2011
Fragonard Belle d'Avril (Neroli)
Guerlain Jasminora (Jasmine)
Guerlain Rosa Blanca (Rose)
Roger et Gallet Fleur d'Osmanthus (tea olive)
L'Occitane Flora Pivoine (peony)
Crabtree & Evelyn Rosewater, Lavender, Lily
Guerlain Le Muguet (Lily of the Valley) - The house puts out an annual lily of the valley composition in limited edition.
Les Parfums de Rosine Clair Matin (Rose) - The house specializes in rose perfumes.
Paul Smith Rose Summer Edition 2011
Zara Woman (Gardenia)
Jo Malone Sakura Cherry Blossom
Douglas Hannant (Tuberose)
Keiko Mecheri Tuberose
Annick Goutal Mimosa
Fragonard Mimosa
Washington Tremmlet Clove Absolute
Serge Lutens Vitriol d'Oeillet (carnation)